Why choose the correct boxing glove? because a poorly finished, burred, angular glove, with poorly distributed weight, inadequate padding, can be a generator of injuries for athletes.
In order to choose the correct type and sized of gloves, you have to determine what you will be using the gloves for.
Bag Mitts/Gloves and Boxing Glove.
Gloves are for bag training only, not for sparring or combat, and are sized by size rather than weight in ounces
Used in bag work, pad work, sparring, and matches. You can easily recognize these gloves as they are much more padded to absorb shock and they will usually come with a thick Velcro strap around the wrists and always sizes by weight in oz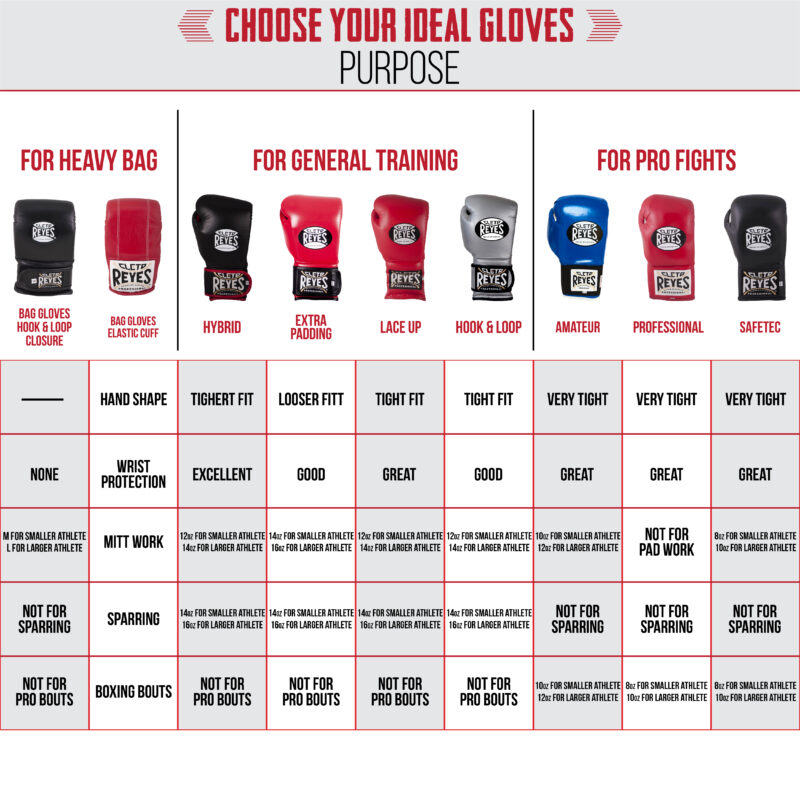 Once you know what kind of gloves you going to use, the second step is choosing the right weight,  this means the glove should be a snug fit, without restricting blood flow, always try on gloves while wearing hand wraps, your fingers should reach the top of the hand compartment without any room left over, but not so much that your fingertips are cramped against the top. Everything should feel comfortable and be neither too loose nor too tight.
Take a look at all our kind of Cleto Reyes Boxing Gloves and choose yours now: HERE